"RE-punzel, re-punzel, let down your hair! Okay pince!"
No, that was not a typo. That is the pronunciation here in this house. I love it when this girl uses her imagination and plays with her dolls and toys. I love seeing the stuff she comes up with. My favorite is hiding around the corner and taking pics when she doesn't know I'm there.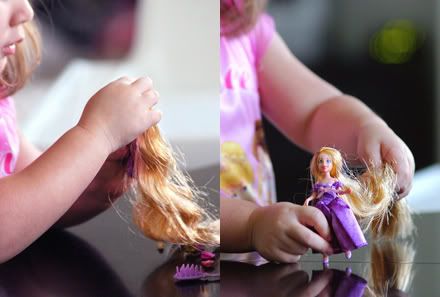 We are anxiously anticipating Disney's newest masterpiece "Tangled". Or "Re-punzel" as Luci would say. Excited that this is one the whole family will want to see. Getting 8 and 6 year old boys wanting to see the same movie as a 3 year old girl......now that is an accomplishment! (Go Disney!)
Wishing you all a wonderful weekend! Ours involves finishing up birthday preparations for our oldest son who will be turning 8 on Sunday. My how time flies.