12.17.2010
Want a fun gift wrapping idea? Burlap. It's super cheap (like $3/yd at JoAnn's) and I love the rough texture.
The gift tags I made by cutting out several small pieces of fabric about 2 x 3 1/2 inches. I sewed small bits & pieces of lace or ribbon onto the tags. The strawberry one is my fave. I hot glued ric rac around the edges of the wrong side. Then I decided it needed something more. I found a little strawberry that had fallen off of a pincushion and I hot glued it to the corner. These would be cute with buttons, velvet ribbon, bakers twine and other random stuff you find around the house. And if you don't sew, everything can be hot glued on.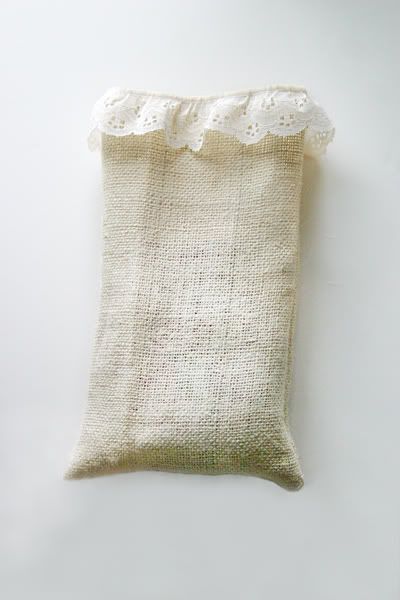 I had some extra fabric, so I decided to make a gift bag. I tied the tag on with one of the fibers that I yanked off of the burlap.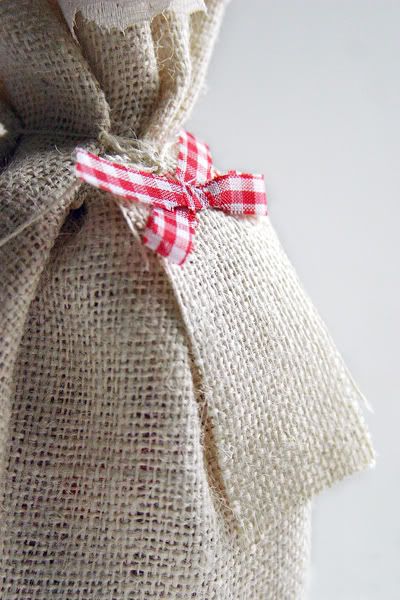 If you're wondering how to get the tag on, just take the tip of a sharp pencil (or a needle) and shove it into one of the holes in the burlap. This will widen it so you can insert your string.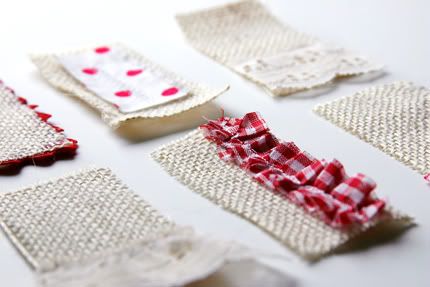 Oh....and the whole to and from thing - I printed onto paper and cut into strips. I then took one of the small strips and fastened it to the back of the tag. For all you scrapbookers out there who have a bajillion stamps.....it would be fun to see these stamped with the small individual letters. That was my original plan, except I was too cheap to buy the rubber stamp set. ;)
Wishing you all a fun, Christmas light filled, hot cocoa drinking, snow angel making, gingerbread baking kind of weekend!!! ♥