Every year our family looks forward to the Holidays and the different traditions that go along with it. Leaving cookies and milk for Santa is a must. Now that the boys are getting older they've started thinking about the reindeer too. So in addition to leaving a bowl of carrots for them, we have started the tradition of reindeer food as well. It was a hit last year and we will definately be doing it again this year.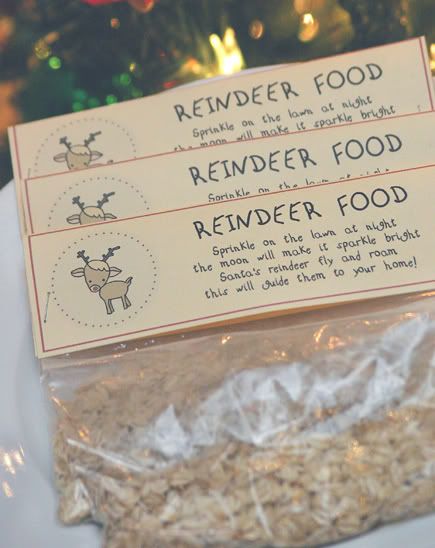 If you would like to make your own reindeer food, simply fill a ziplock baggie with oats (& gold glitter if you want to go all out). Print
these toppers
, cut, then staple to the top of your baggies. Have the kids sprinkle the "reindeer food" on the front lawn before bed. You can also make reindeer track marks on the tops of your cars, in the front yard...for a finishing touch to be found the next morning. Such a fun idea....but I'm always looking for more. What are some of your favorite Christmas traditions?