When virtual shopping, I found this cute girls necklace at J Crew. It's silk and reminds me of bubblegum or candy.
I thought it would be easy to replicate, so I came up with a tutorial for all of you.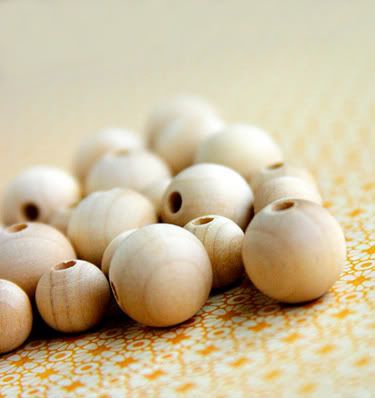 First get your supplies together. Here is what you will need:
1/8 yard of silk fabric
(I used silk dupioni found at Joann's)
3/8 inch wide coordinating ribbon
- about 40 inches
5 wood beads
(a large one for the middle, 2 smaller ones for either side of that one and 2 smaller than that for the ends) I got the wood beads at Joann's I also had an old necklace I broke to get the larger bead from.
1. Cut a strip about 10 inches long. Wrap it around your largest bead to make sure there is enough room to leave a little extra and allow for a 1/2 seam allowance.
2. Cut close to the seam allowance as shown. Turn fabric inside out.
3. Cut a 40" piece of ribbon. Seal the ends with seam sealer or run a lighter over the ends. Slide your beads on in the correct order. Small, medium, large, medium, small.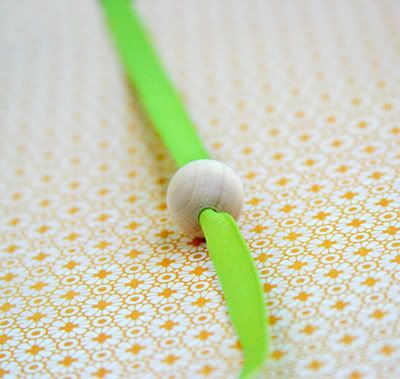 Slide the strand of beads through your casing. If you weren't able to get your beads on the ribbon, slide the ribbon through, then put the beads in the casing in the correct order.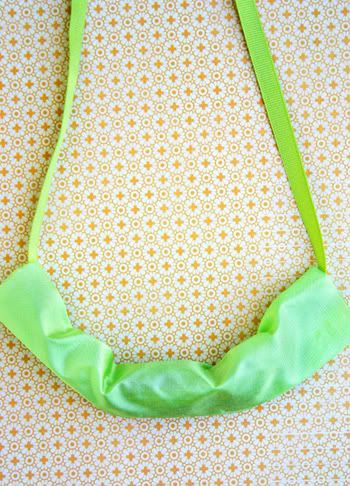 Cut 4 strips of fabric, about 1 in. x 5 in.
Tie thread in between each bead nice and tight. Now tie your silk strips in between each bead nice and tight. Do not worry about the fraying. It lends to the character.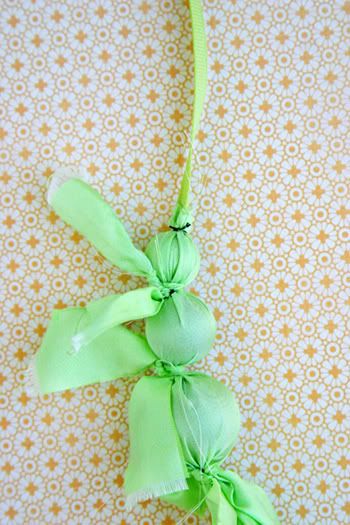 Now clip the ends of the fabric as shown in the picture above. Next you will tie knots in the ribbon on either side close to the beads. This will conceal the fabric edges. Go about 3-4 inches up on either side of the ribbon and tie knots. Go up another 3-4 inches and tie knots again. If you would like you can put a charm in one of the knots.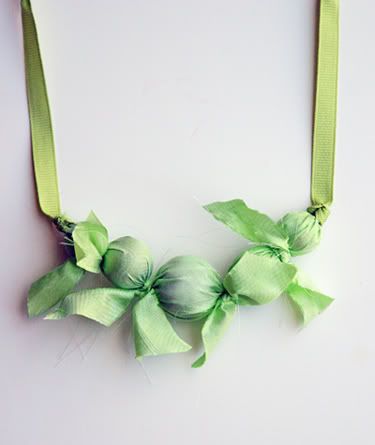 Tie a bow at the top (secure with a stitch) and you are done
The finished product! So cute and fun. Make them in bright summer colors like lime, orange, yellow and fuschia. This necklace was in the Crew Cuts section (kids) of J Crew; but I just may have to make one for myself.
Stay tuned
.... I am going to be doing a knock off series, with this being the first. I will be completing this look with a head to toe outfit.
PS. I just added the followers button this week at the right of the screen. So...if you would like to be a follower, that option is now available. ♥