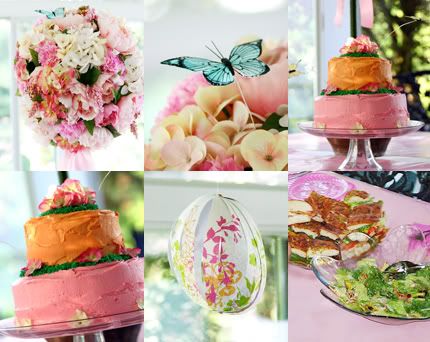 Well, I just realized Luci's birthday is a little more than two weeks away so, I'd better get on it. Here are some pics from her party last year. She was turning two. And with her birthday falling on the same day as mother's day, we decided to do a Tea party theme to celebrate both.
For the decor we covered the oversize table with pink wrapping paper and tucked it under the table and secured with tape. (a great costsaver-and any pattern to fit your theme) We made paper globes out of scrapbooking paper (by cutting 12x12 paper into strips, fanning out and securing with a brad at both ends). I made a floral topiary for the centerpiece with butterflies. For the cake, I did grass on the tops and butterflies to look like they were flying. We used pink luncheon tableware and of course lot's of teacups.
For the menu, we did two types of tea sandwiches (egg salad, and cucumber). Karl came up with these great grilled chicken foccacia sandwiches which were a hit. We also had salad, two types of hot tea, lemondade and iced tea.
If anyone is planning a birthday or what to do for mother's day this would be really fun. You could even have your guest dress up or where big hats. For little girls, you could have lot's of faux jewelery for them to choose from and feather boa's. You could serve tea cakes and petit fours. The options are endless. Well, I'm needing to plan the next party and I'm told it should be pink and have princesses. I love this age!
Happy Monday!!!!!!!!